And he (she?) has a sore knee.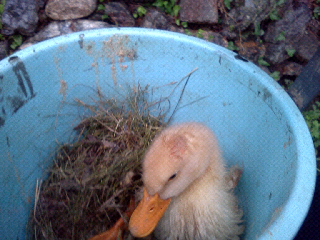 Poor ducky...
But never fear.
The duck saviours are here!
We scooped up the lame duck and brought him (her?) home in a bucket and then put it up at Casa Fukase overnight in a crate with dry grass and rice husk bedding, water and feed and then today it is off to the duck maestro's house. The duck maestro has a special pond just for lame and weak and otherwise special needs ducks.
He is such a great guy.